The offseason demands content, and since literally nothing interesting is happening with regards to the Ole Miss Rebel football program right now, we felt it incumbent upon us to allow for you, the readers, to help prepare some discussion fodder. We could have drummed up ideas about schemes, depth charts, schedule look-aheads, or anything directly related to the athletic pursuits of football, but we opted to go another direction. Instead, we asked you all to consider the things about Ole Miss football and the players who represent it that cannot be easily quantified or demonstrated. Without worrying about reason or justification, we just wanted to know who your favorite players are from 2012 until now.
Or, in simpler terms, who are your favorite Ole Miss football players in the Hugh Freeze era?
As we are wont to do, we took to Twitter to solicit your responses and provided a link to a brief Google form.
Vote for your favorite Ole Miss Football Players under Hugh Freeze HERE: https://t.co/WM8tw5ExI6

— Red Cup Rebellion (@RedCupRebellion) May 10, 2016
In that form, you were given the opportunity to list five Ole Miss football players who suited up from 2012 to today. Most of y'all took full advantage of that opportunity and provided a full five! Some of y'all didn't, only listing one, two, or three, but that's also okay. Some of y'all tried to fudge the rules and write in multiple names in one blank; that is fraud, and we had to throw out your submissions as a result. We expect better, and we hope not to see such egregious disregard for the rules in the future.
In the end, after we weeded out a few submissions that were either in error or made in jest (we'll get to that), y'all submitted 57 different Ole Miss football players who, at some point, wore the red and blue under the leadership of Hugh Freeze. As all of us could have easily predicted, Laquon Treadwell took top billing running away. Chad Kelly took number two, which is only surprising to us because of his being a relative newcomer to the program. Mike Hilton slides in at third, and holds the title as y'all's favorite defensive player under Hugh Freeze, and Bo Wallace and Donte Moncrief round out the top five as arguably the most celebrated quarterback/receiver duo in program history.
Here's y'all's top-10 favorite players of the Hugh Freeze era.
Laquon Treadwell - 123 votes

Chad Kelly - 63 votes

Mike Hilton - 50 votes

Donte Moncrief - 47 votes

Bo Wallace - 46 votes

C.J Johnson - 43 votes

DT Shackelford - 37 votes

Cody Prewitt - 29 votes

Senquez Golson - 28 votes

Trae Elston - 21 votes
Here are some thoughts and observations on the votes.
Y'all really like Laquon Treadwell
We bet y'all like pie charts too. Here's how the votes shook out for the 59 players y'all selected, with emphasis placed on the top-10:
Of the 658 names submitted, 123 of them were some form of "Laquon Treadwell." So roughly a fifth of every response y'all submitted was to vote for Treadwell. Of course we would have guessed that he'd come out on top here, but the extent to which Ole Miss fans love him is impressive. Just over half of the rest of the votes filled in the remaining top-10, with about a quarter of the votes representing players 11-59 on the list.
Y'all don't like the other members of "The Big Three" as much
We have a suspicion that, had we asked this question a year ago, Robert Nkemdiche and Laremy Tunsil would have made it into the top-10. But one of them says weird things and fell out of a window, and the other one did drugs through a mask and admitted to asking for someone to help him pay for something, so it makes sense that they'd lose some favor.
Several Defensive Backs got lots of Votes
Former Ole Miss safety Mike Hilton earned the most votes of any defender. Fellow safeties Cody Prewitt and Trae Elston also cracked the top-10, as did former Ole Miss All-American cornerback Senquez Golson. This means four of y'all's top-10 were from the Ole Miss defensive backfield. When Hugh Freeze was hired, We doubt any Ole Miss fan would have guessed that the Rebel secondary would become a source of pride for fans.
D'Pez Poopsie Got his Just Dessert
The former Ole Miss fullback, who made an appearance in the prestigious East/West Bowl at the conclusion of the 2013 season, earned one vote. He was one of the best athletes on the celebrated 2012-13 team, but was not able to see the field as much as some of his more well-known teammates due to a big shift in offensive scheme and some academic issues.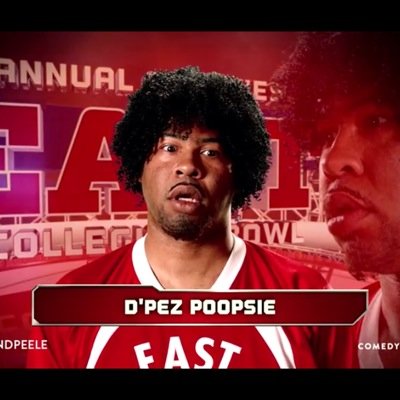 So good on him for being loved and remembered amongst the Ole Miss faithful.
Y'all had lots of fun Nicknames for Ole Miss Players
When we polled you, our readers, we asked you to simply list names. You didn't have to do more than that, and yet some of y'all did! Here are some examples:
Many of y'all called Bo Wallace "Dr. Bo." Some of y'all clarified that you were voting for "Good Bo" or "Not Bad Bo" - We counted either response for the former Ole Miss quarterback. One of y'all called him "Bo with the good hair," which is a timely reference to a Beyonce song

Laquon Treadwell had many nicknames, including "Successful," "Megaquon," and "Da Gawd" and "LAQUON!!!"

Both of Serderius Bryant's votes had him listed as "Bird."

About a quarter of Chad Kelly's votes were for "Swag."

Channing Ward was written in as "The Aberdeen War Machine," which is one we haven't heard yet.

Both "Laremy Tonsols" and "Robert Kimchee" earned votes. Those are pretty good!
Some of your Votes Weren't Valid
We couldn't accept multiple players submitted in one space. "The Twins," while presumably for both AJ and CJ Moore, cannot count as two votes. Neither can "The Nkemdashians," which refers to either Robert and Denzel Nkemdiche or the Kardashian family; the former reference would be problematic in a way similar to voting for "The Twins," while the latter would be votes for people who did not play football at Ole Miss under Hugh Freeze.
One of you even had the gall to write twenty-three names in one space.  Nice try, bub.
Other votes, such as those for Dou Innocent and Hiram White, were for players who played well before Hugh Freeze was hired at Ole Miss, and were therefore thrown out. We did, however, elect to count votes for AJ Brown and Shea Patterson, despite them not yet having played a down of Ole Miss football.
Someone Made a Joke at Dan Mullen's Expense
One of y'all wrote in the following:
This is a reference to a moment when Dan Mullen sent as a tweet that was intended to be a DM. We got a good laugh out of that.
A Few Folks Took the Opportunity to Be Rude
When we give you a ballot to write in names of some of your favorite Ole Miss football players, we expect you to do just that. We take these endeavors seriously, and while everyone appreciates a good goof here and there, we trust that you too share our passion for data and the democratic process. Unfortunately, a few jokesters thought it clever to write in things like "Austin GoLOLson (JK he sucks)" and "Tunsil's Gas Mask." Someone even squandered the opportunity to vote for a quintet of Rebel greats and instead wrote in the mothers of the author, Zach Berry, Jeff Gray, Michael Borkey, and Smeargle. That is a rather churlish way to pay tribute to those of us who tirelessly produce #content for our fellow Rebel fans on the web.
Lots of Players Earned Votes
There have been a lot of great players at Ole Miss over the past five years. We are glad that more than 50 of them earned recognition through this effort. Thanks for helping out with this y'all -- except for those of y'all who took this whole exercise as an excuse to goof around. Please do not gum up our serious pursuits here with your insistence on gettin' a laugh out of people online.
| | |
| --- | --- |
| Laquon Treadwell | 123 |
| Chad Kelly | 63 |
| Mike Hilton | 50 |
| Donte Moncrief | 47 |
| Bo Wallace | 46 |
| C.J. Johnson | 43 |
| DT Shackelford | 37 |
| Cody Prewitt | 29 |
| Senquez Golson | 28 |
| Trae Elston | 21 |
| Robert Nkemdiche | 20 |
| Tony Conner | 20 |
| Evan Ingram | 15 |
| Laremy Tunsil | 13 |
| Jeff Scott | 8 |
| Channing Ward | 7 |
| Cody Core | 7 |
| Jaylen Walton | 7 |
| Issac Gross | 5 |
| Marquis Haynes | 5 |
| Quincy Adaboyejo | 4 |
| Randall Mackey | 4 |
| Ben Still | 3 |
| Breeland Speaks | 3 |
| Jeremy Tinsel | 3 |
| John Youngblood | 3 |
| Justin Bell | 3 |
| Mike Marry | 3 |
| Robert Ratliff | 3 |
| Andrew Ritter | 2 |
| Gary Wunderlich | 2 |
| Jason Jones | 2 |
| Jeremy Liggins | 2 |
| Jordan Holder | 2 |
| Nick Parker | 2 |
| Serderius Bryant | 2 |
| AJ Brown | 1 |
| Akeem Judd | 1 |
| Berry Brunetti | 1 |
| Brishen Matthews | 1 |
| Chief Brown | 1 |
| Collins Moore | 1 |
| D'pez Poopsie | 1 |
| Damarkus Lodge | 1 |
| Denzel Nkemdiche | 1 |
| Devante Kincade | 1 |
| Dylan Dyer | 1 |
| Fadol Brown | 1 |
| Fahn Cooper | 1 |
| Ja-Mes Logan | 1 |
| John Ratliff | 1 |
| Jordan Herbert | 1 |
| Nathan Noble | 1 |
| Sean Rawlings | 1 |
| Shea Patterson | 1 |
| Will Martin | 1 |