Ole Miss is a top-15 program, and they're hosting arguably the country's best football team in the Alabama Crimson Tide this weekend. Both teams are undefeated, meaning that both are theoretically in the drivers seat for contention in the SEC's Western Division. And, speaking of the SEC West, the game is flanked by another set of excellent SEC West matchups as Mississippi State hosts Texas A&M in the early slot and LSU travels to face Auburn for the conference's nightcap.
This is the best weekend in SEC West football in... uh... ever? And the focal point will be in Oxford with the nationally televised CBS broadcast picking up the game for 2:30 PM Central. Adding to that ESPN College Gameday's first ever visit to the Grove and you've got a formula for the most anticipated Ole Miss home game since Eli Manning was a student.
Considering all of that, I do have a concern that there will be a lot of irrationally angry Ole Miss fans come Saturday morning when they learn that their tailgate setup - something that people have a bizarre sense of ownership over considering that the space they use does not belong to them - has been sacrificed for the sake of the College Gameday Set.
"MY FAMILY'S BEEN HERE FOR 20 YEARS!" they'll shout, inaudibly, as a crowd of hundreds of people cram themselves behind the Gameday stage to get their beautiful faces and silly signs on ESPN. "WHAT IS THIS THING?! A DEE-JAY? WHAT IS WITH ALL THIS DAMN NOISE? WHY IS THERE A WASHINGTON STATE FAN HERE!?"
Angrily, they'll huff and puff around the Grove looking for a place to set down their Chick Fil-A nugget trays, and demand a refund (again, for something they didn't pay for) via an angry, grammatically disastrous email to Ross Bjork.
Here's what these folks need to realize: The Ole Miss community and the Rebel football program are much bigger and more important than you when it comes to who gets what on Saturdays in Oxford. You're not too important to be inconvenienced by three hours of free publicity for our university and football team, especially when said three hours of free publicity are making their first ever visit to our campus.
So plan ahead and, if you're forced somewhere outside of the Grove for one fall Saturday, suck it up.
Other Links:
Look at these losers: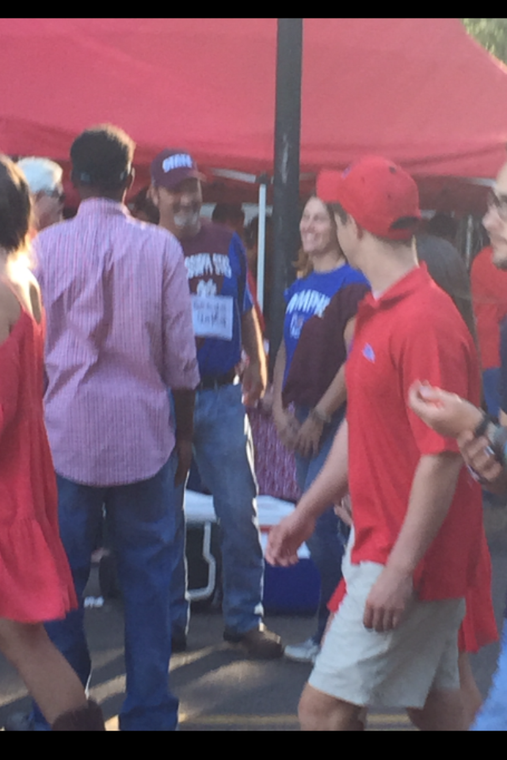 Yep, those are Mississippi State/Memphis fans who decided to spend this past Saturday in the Grove dressed like, I dunno, a shitty meme or something.
ESPN is so stupid sometimes:
ESPN uses Jamaal Charles graphic with not-Jamaal Charles (that's Texans safety Kendrick Lewis) http://t.co/ngo0rJXPRl pic.twitter.com/IfEBSAm77o

— SB Nation (@SBNation) September 30, 2014
And now I just remembered that Kendrick Lewis is somehow still in the NFL. Good on him.
Watch this Japanese bartender make a rum cocktail that probably costs $400 or so. Then try to order one at Snackbar.
FYI, this drink is called a "Rum Martinez," which is made with sweet vermouth, rum, maraschino liqueur, and bitters. It's normally stirred over ice, strained, and garnished with a bit of lemon zest. What he does, though, is wacky as hell, what with the smoking decanter and the cigar and whatnot.