The Ole Miss Rebels beat the Vanderbilt Commodores 65-62 yesterday in the Tad Pad during the last game of the regular season. The win gives the Rebs the No. 6 seed in the Southeastern Conference Men's Basketball Tournament, where they will face the winner of Vanderbilt and Mississippi State's opening round match.
Though a victory, most of yesterday's game seemed out of reach. At one point, the Rebels trailed by twelve during the second half, and the game looked like it would see the Rebs end the season with a disappointing sub-.500 record in SEC play. Marshall Henderson, however, sparked the Rebel comeback, scoring 11 points in the second half of a senior night devoted solely to him as the Ole Miss basketball program's lone senior.
With just over three minutes remaining, Henderson nailed a pair of free throws to give the Rebs a 61-60 lead that they would not relinquish. Vanderbilt came close to tying it at the end, but Commodore Nathan Watkins' three point shot at the buzzer was off the mark.
Henderson led the Rebels in scoring, notching 18. He also had three rebounds, three steals, and an assist. Jarvis Summers scored an uncharacteristically low 12 points, with three assists, two rebounds and two steals to boot. Freshmen Sebastian Saiz and Dwight Coleby led the Rebs in rebounds with seven and six, respectively, while Saiz and Aaron Jones each led the Rebs with three blocks.
The win means Ole Miss will finish the regular season with an 18-13 record, with a 9-9 SEC mark. This puts Ole Miss in the SEC Men's Basketball Tournament as the No. 6 seed, where they will face the winner of Mississippi State and Vanderbilt in the second round. The bracket is here: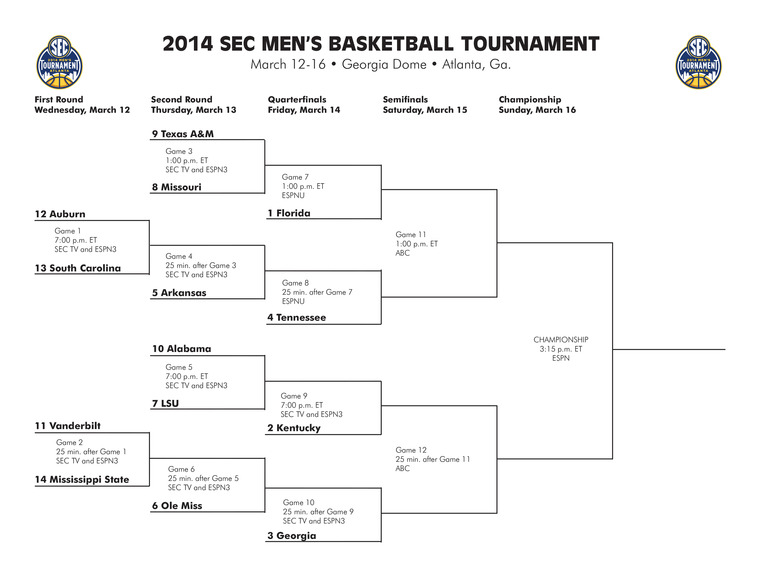 Click to biggify
Honestly, this ain't such a bad draw. I like the Rebs' chances against Vandy, State, and Georgia on a neutral floor, and while Kentucky will be a tough out the Wildcats have seemed vulnerable as of late. Still, the Rebs would have to hope for a fluke Florida loss or an even flukier win against the Gators to make their way into the NCAA Tournament via the SEC Tournament, and we're not too high on their chances to do either.