It was just over a year ago when Marshall Madness - the phenomenon of the general college basketball watching population having a vocal opinion about Ole Miss Rebel guard Marshall Henderson - began to take shape.
After Marshall Henderson trained a stupid-crazy three to send the a game against Vanderbilt in Nashville into overtime, a game the Rebels would win, Deadspin ran a story called "Who is This Marshall Henderson Guy?" Therein they outlined his antics at Vanderbilt and elsewhere, describing his "psychotic grinning and clapping" as characteristic of a man "in the throes of a demonic possession."
They also (correctly) called this beauty one of the best animated GIFs of the year: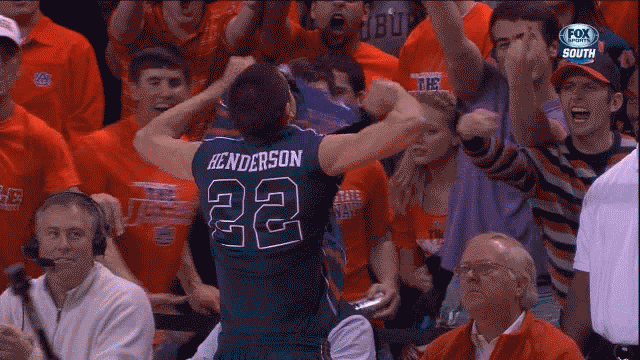 I really cannot find it at all possible to tire of that GIF. It's just too perfect.
Anyway, it was against Vanderbilt that a lot of this Marshall Henderson hysteria began to spread outside of the confines of the Southeast, so it's somewhat appropriate that his last regular-season SEC contest - and perhaps his last game in Oxford - will come against Vanderbilt on a senior night that is exclusively devoted to him as the program's lone senior.
We'll eulogize his controversial and ceaselessly entertaining career when the time's right, but know that the thought of this perhaps being his last lap around the Tool Pool makes this particular bloggeur a bit melancholy.
Oh, and as for the game itself. Like it really matters. Aside from the flukiest run in the SEC Tournament our program could possibly muster, we ain't making the dance, and I'm not sure we'd find ourselves in great standing in the NIT either. Just watch for Marshall's sake.