We're halfway through the college football regular season, with the Ole Miss Rebels sitting at an impressive 6-0 and ranked No. 3 for the first time since I've been alive. With all of the national attention the Rebs are getting, it's a bit tough for a modest bloggeur like myself to keep up. Sure, SEC football is always talked about by a core group of reliable pundits, but now Ole Miss football is one of the focal points of the entire college football landscape.
Because of this and because of the Rebs' stellar games against Alabama and Texas A&M, a lot of Rebels are earning accolades at this point of the season. Evan Engram, Laremy Tunsil, Robert Nkemdiche, Senquez Golson and Cody Prewitt are all members of ESPN's midseason all-SEC team. Tunsil and Golson are on the same outlet's midseason all-America squad. Gene Wojciechowski awards all sorts of Rebels in his Big Man on Campus column, including Hugh Freeze (along with Dan Mullen), the Landsharks, and the State of Mississippi in general. And, just for good measure, Cody Prewitt and Marquis Haynes were named the SEC's defensive player and defensive lineman of the week, respectively, for their performances against Texas A&M.
It's still a strange feeling to have Ole Miss so positively talked about by so many, but I'll be damned if I don't enjoy it while I can.
Other Links:
This is a pretty rad graphic: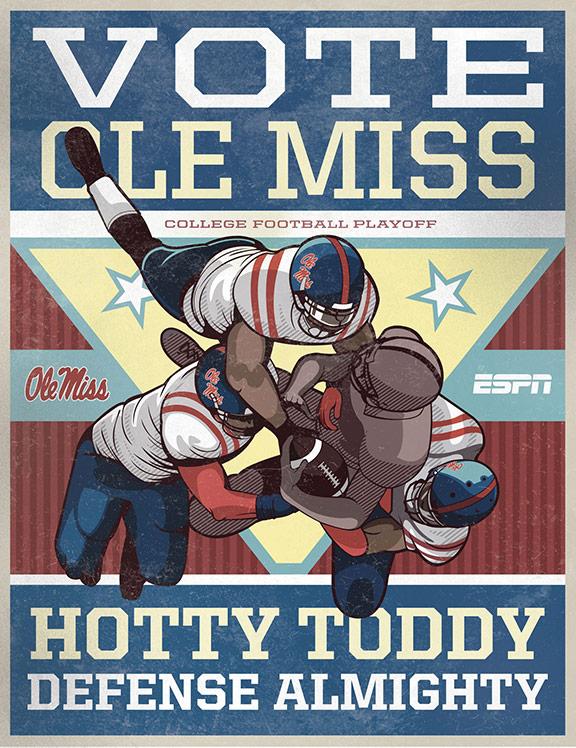 ESPN made it. I don't know what for. But, yeah, I'll vote for Ole Miss.
And Here's Dr. Bo on the Dan Patrick Show: