[ED: We are delighted to bring to you this interview with Arkansas' most devoted, loyal, beautiful, vocal supporter of the home-state Razorbacks. We hope you enjoy reading it as much as we enjoyed "conducting" it.]
RCR: Good morning, WooPig Sooie Man! I hope that everything is going well for you. I know that fans are excited about Arkansas' season thus far and feeling optimistic at Arkansas' dark horse shot to win the SEC West. If you could sum it up in a few words, what is the general fan attitude surrounding the Razorback program as it stands today?
Wooooooooooooooooooooooooooooooooooooooo!
PIG! SOOIE! RAZORBACKS!
RCR: So, good? Yes? No? I'm not sure what to make of th-
Woooooooooooooooooooooooooooo!
TYLER WILSON OLD MESS FORT SMITH BACON PIG BY GOD SOOIE!
RCR: Excellent. So after a tough loss to Alabama and an amazing come-from-behind victory over the Texas A&M Aggies, an old rival of yours, Arkansas is looking at another top-15 type of season, if not something much better. There's still a good bit of football to be played and with the quarterback and receiving talent at hand, Arkansas could conceivably revisit the Sugar Bowl. How does the Razorback fan base feel about that prospect?
Woooooooooooooooooooooooooooooo!
WIGGLY LITTLE SAUSAGE FINGERS PIG SOOIE!
RCR: Alright, well, you're coming to Oxford this weekend hoping to maintain Arkansas' top-10 ranking. What do you think are the keys to the game? What will Arkansas need to do and avoid doing in order to emerge victorious?
Wooooooooooooooooooooooooooooooooooooooooooooooooooooooooooooooo!
JOE ADAMS DARREN MCFADDEN BOBBY MOTHERFUCKIN' PETRINO HOUSTON NUTT CAN SUCK ON MY HUEVOS THAT'S "ORANGES" IN SPANISH I'M TALKIN' ABOUT MY TESTICLES PIG BY GOD SOOOOAAAAHHHHHHHH!
RCR: Talk some about the injury woes Arkansas has had this season. You know, Knile Davis, Jake Bequette, and others?
Woooooooooooooooooooooooooooo!
FUCK YOU SOOIE!
RCR: Well, shucks, that's not very polite, sir... But, hey, I'm one for burying hatchets and I will be in the Hospitality State this weekend so, do tell, will you be in Oxford as well?
Woooooooooooooooooooooooooooooooooooooo!
KEYSTONE LIGHT NACHO CHEESE PUBLIC LIBRARY INTERNET HANGIN OUT WITH MY GOOD FRIEND AYCH TEE EMM PIG GREAT BALLS OF FIRE SOOIE!
RCR: Aych Tee Emm? Aych... Tee... Emmm... Oh no, you don't mean...
Please not...
RCR: Oh no...
WOOPIG OH YES YES HE'S MY MAIN MAN WAL MART TYSON CHICKEN GREASE SOOIE WOOOO GONNA CLOG UP YOUR PLUMBING MOTHERFUCKERS SoOoOoOoAAAAAHhhhhHHHhHHH!
RCR: [SIGH] Your team's going to beat ours by 25 points and you're all going to act like a bunch of rotten brats about it the whole time, right? Like, you're all going to go out of your way to annoy us and remind ourselves why it is the rest of the conference is so skiddish about SEC expansion, correct?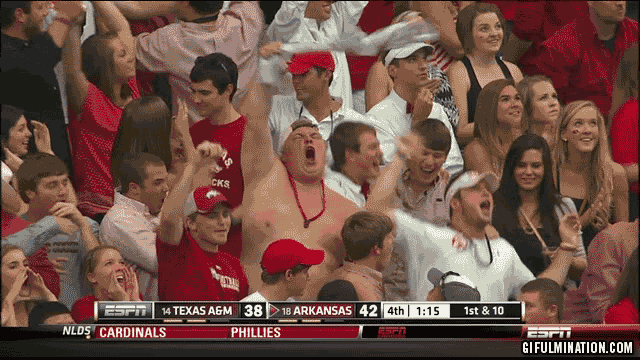 RCR: Ugh...
~Fin~