I'm a lot of things right now.
I'm excited. I'm nervous. I'm focused. And I'm pissed.
I'm sick of a vast majority of the mainstream media downplaying our Rebels. I'm sick of fairweather Rebel fans who aren't at all ready to cheer for our Rebels against an excellent team for fear that they'll be cheering on a losing effort. I'm sick of Texas Tech fans acting like their Red Raiders don't deserve to play our "lowly" Rebels in the cotton bowl and I'm sick of them acting like we're just going to roll over and die out there.
Above all of this, though, I'm sick and tired of being sick and tired. This four losing seasons in a row bullshit has finally ended and I don't anticipate it coming back for quite a while.
I know that this game has been placed on the back burner in favor of the BCS title game and the ESPN-boner (Rose) Bowl but when all things are considered, this is a pretty impressive bowl game. The Cotton Bowl has an incredibly storied history. National championships have been won and lost in Dallas on New Year's Day and to earn the opportunity to be one of the final teams to play in the actual Cotton Bowl stadium itself is pretty impressive. This game will also actually allow us to play out the heated debate of
SEC defense vs. BigXII offense
in real, on the field play. Perhaps, though, the greatest aspect of this game is the fact that we've a slew of All-Americans headlining both of these teams, all of which have something to prove.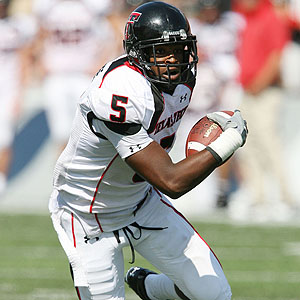 Here's to a damn good Cotton bowl, Rebels
and
Raiders. Hotty Toddy and go Rebels.
Post Scriptum
- Just an FYI, Leach: Peria Jerry isn't afraid to hurt a motherfucker. You can't say I didn't warn you.
Post Post Scriptum
- Cotton Bowl open thread is below. If you're not in Dallas or at your favorite local sports bar and have elected to watch the game at home with a laptop nearby, leave your very own running commentary. Anything and everything goes.