If you answered "The Human Torch," then you'd only be
half right
. The half wrong part is Sophomore Running Back Chris Evans of Samford.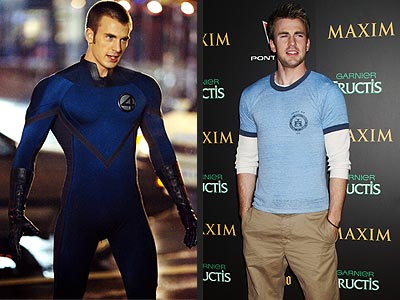 No, not that guy.
This guy
, who, unlike his namesake, is unlikely to be copulating with the winsome
Jessica Alba
. (That link, by the way, is just b-b-b-barely safe for work).
The football playing Chris Evans is the stud for Samford, returning in 2008 after rushing for 1,033 yards in 2007 as a freshman. At 6'2" and weighing in at 218 lbs., Evans is no Dexter McCluster. He's a big back in the mold of Benjarvus Green-Ellis, who, likely plans to go man-to-man against Peria Jerry and Ted Laurent - or, for our less initiated readers, right up the middle. On the season, Evans has 29 carries for 246 yards and 4 touchdowns.
Samford's last FBS opponent was Georgia Tech in 2007. Not surprisingly, they got super-stomped. Rebel fans should seriously doubt whether Evans will ever even make us nervous. Nevertheless, I, personally, am hoping he has a decent visit to Oxford. The young man appears to have his head screwed on right - he's a scholarship athlete majoring in Pharmacy, so I doubt he brings down the team GPA. So, here's hoping Evans crosses that 100 yard mark. In the 4th quarter. Against the scout team defense.
Tomorrow: A familiar face - Oxford native, QB Matt Malouf.