Clarion Ledger is reporting that Michael Guerrero was taken in the 21st round of the Major League Baseball draft by the Washington Nationals.
Click
here
if you need proof, you doubting masses.
I really like Michael. He would, obviously, be a pretty important part of our offense in 2009. I don't know how much money a 21st-rounder makes, but Michael looks like the type of prospect that could substantially improve his draft status if he plays another year of injury-free ball. Here's another thing to think about, Mike. The Washington A farm teams are in Woodbride, Virginia; Hagerstown, Maryland; and Winooski, Vermont. Now, Maryland and Virginia are okay, but, Mike, you've got a one in three chance of ending up in VERMONT. You ever been there? More importantly, have you ever met a chick from Vermont?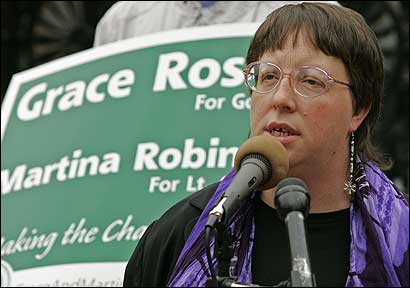 Don't believe me? Check out
Miss Vermont 2007
. Not that there's anything wrong with Miss Vermont 2007, but, let's remember - the
best
Vermont can do looks less like a Top Tier Sorority girl and more like an All-American on the Women's Rifle Team.
Now, Mike, let's talk man to man for a second. In a totally hetero way, you need to know that you're a nice looking guy who is a varsity athlete at a school known nation-wide for its attractive women. Do you want to stick around and pick up a few more impressionable freshmen at the Library on your way to an All-SEC season and a chance at a much higher pick in the draft, or do you want to chance going to Vermont, playing for $8.00 a day (plus a can of maple syrup), only to head over to the local independent hippie brew-pub where you'll have to settle for the eye-candy equivalent of licorice jelly beans?