EDSBS
has posed the question, "Who is the face of your football program?" This is, obviously, an exercise in self-deprecation. A few images come, instantly, to mind. This one...
...presents both the most recent savior of Ole Miss in a less than flattering light. Additionally, it is a pictorial representation of the RSC motto, "we only hide our booze because we have to."
Then, there is "befuddled Orgeron." So many images of the Orgeron show the anger of Coach O, but only this...
...the befuddled Orgeron really says, "We are ... OLE MISS!"
Of course only one face can really symbolize the enthusiasm that is Ole Miss athletics...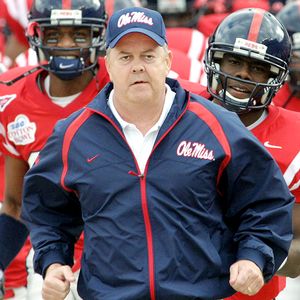 Feel free to submit your own!