Why have you blessed LSU so much? (Matthew 27:46) Ok, well maybe not, but why LSU? There are few people with less class, trashiness, and no collection of people less deserving of joy than those coon asses down on the Bayou.
In order to keep you faithful RSC readers with something to waste your time reading, I ventured down to Hoover on Friday in hopes of seeing Ole Miss win something in a sport not dominated by Euro trash. It did not start off well when Cody Satterwhite came down with a "stomach virus" and gave up some earlier runs to Vanderbilit. By the way, stomach virus my ass, he was more than likely gettin' dranked somewhere the night before.
Things did not get any better when Rory McKean forgot how to to pitch and helped Vandy to a 5 run inning (A recurring theme of the weekend). We lost the game 7-3 or something like that, I do not remember nor care to look it up. That's the type of fine bloggerism you will find here on RSC.
Anyways, we ended up beating the 'Dores in game 2 after burning Bukvich and Bittle in the process, not something you want to do if you have aspirations of winning on Sunday. Following Bittle's shaky performance at the end of the game, and realizing he was done for the weekend I did not have high hopes going into Sunday. By the way, Bittle closed the game out for us Saturday but Brett freaking Basham was fucking phenomenal behind the plate in those two innings. If anyone else was trying to block those pitches at least two would have reached the back stop.
So, Sunday comes and Nathan Baker teased us for a few innings before surrendering three straight doubles. Enter Jake Morgan, whose arm had to be dead, and he gave up a couple more runs. Inning ends with 5 runs and for all intents and purposes we (the team) called it quits after that debacle of an inning, not that it mattered with the arms left in our bullpen.
Enough of the recapping, you all watched/listened to the game, even though those who listened to the game probably got a much different account from those who actually saw what was going on during it. Yes, that was a joke about how ridiculous David Kellum can be on air.
Back to my original point. Why did those fucking coonasses have to win this series? Brian Walker's Elbow already pointed out they got their retribution for Katrina with another national title in football, so why do we have to give them another one? Sure they played piss poor in basketball this year, but they beat us down in their shit hole, and hired a good coach to replace
Cry Brady
.
Here are a few more reasons LSU fans do not deserve, well, anything.
1. These fucking douches. I ran into these sacks of fuck in the Grove and proceeded to throw mini-corndogs at them. The Pride of LSU right here.
2. This fat ass.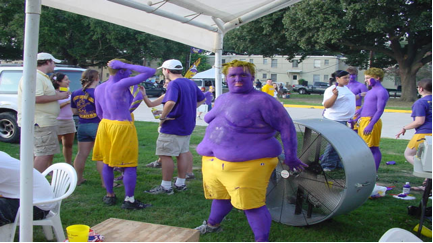 3. These Heauxmeauxsexuals.
4. And for having a QB who was more thuggin than
Marcus Vick
.
I can only hope
G
.
A
.
Y
. is setting them up for a major letdown in the CWS. I almost want them to make the CWS and lose on a walk off grandslam, or maybe have that happen in the Super Regionals. Either way I think it is much better than a quick exit in regional play, let's all hope G.A.Y. gets their hopes up before going Sodom and Gomorrah on their ass.