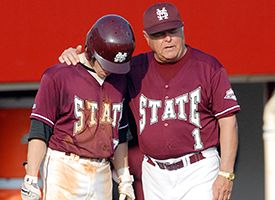 "Sometimes, son, all you can do is cry. But, remember, save some tears for Tuesday - we're gonna need 'em."
Something in Starkville smells like Dudy
Noble
.
This weekend, Vanderbilt, a team that provided the meatiest portion of the Rebels late nine-game win streak, scored not one, not two, but
thirty-five
runs on a beleaguered Bulldog team that is quickly becoming the
Baylor
Northwestern
New Mexico State
Mississippi State of Southeastern Conference Baseball.
This unhealthy beat-down was Vandy's first SEC road sweep
since 1993
. George W. Bush was still a coke-head the last time Vanderbilt swept a road series. Paula Abdul was sleeping with men her age the last time Vanderbilt swept a road series. Billy Brewer was the head football coach at Ole Miss the last time Vanderbilt swept a road series.
Considering the teen pregnancy rate in Mississippi, there are children alive right now (probably reading
Red Solo Cup
) whose parents weren't alive the last time Vanderbilt swept a road series. And this weekend, they did it by scoring thirty-five runs.
If Vanderbilt's runs this weekend were standard twelve-ounce cans of beer, Nick Nolte would be
hammered
a little buzzed.
And, to continue the use of metaphors, if Mississippi State's improbable run to the 2007 College World Series was the
Blame It on the Rain
of Ron Polk's career, the fantastic implosion of 2008 is probably
this
.
Oh, and by the way, the 14-21 Bulldogs face Ole Miss tomorrow night at Trustmark Park in
Jackson
Flowood for the
Mayor's
Governor's Cup. If the 'Dogs win, I'll stop believing in baseball.
Jackie Sherrill, Senior SEC Analyst for RSC, who was the head football coach at Mississippi State the last time Vanderbilt swept an SEC road series, said of Polk's disastrously sweet career-ending decline, "Don't give up, Ron. Driving Mississippi State athletic programs into the ground is a pleasant and rewarding experience - almost therapeutic. I endorse this practice with my highest regards."